Bright Future for Sao Tomé: a Healthy Smile
  Recently, the Epidemiological Investigation on Caries Incidence of Sao Tomé Adolescents Project (EICISA Project) was brought to a successful close. Doctor Que Lin and nurse Jia Mao from West China Hospital of Stomatology Sichuan University, members of the 16th Chinese medical team (Sichuan group), were in charge of the EICISA Project. The medical team set out to the Democratic Republic of Sao Tome and Principe (STP) and devoted two months to carrying out the investigation of dental caries status in a sample group of amounting to 2000 students from over 70 classes in six districts of Sao Tomé Island.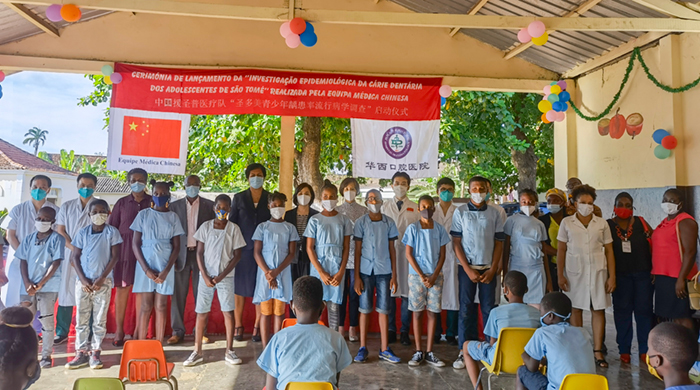 On April 27th , the launching ceremony of the EICISA Project was held at Maria Jesus primary school in Sao Tome and the medical team members examed the oral cavity of students. Chinese Ambassador Xu Yingzhen, Sao Tomé Minister of Education and Higher Education Sr. Rodriguez, and Sr. Edgar Neves, Minister of Health attended the activity. The team's work is part of a broader effort to gather precise figures to evaluate the total caries prevalence rate in STP and statistically support its prevention of dental decay and application for correlative international aid.
  With the tenets of "friendship, cooperation, peace and development" and the skillful technique in the area of epidemiological investigation on caries prevalence, West China Hospital of Stomatology Sichuan University offered services to local people and completed this epidemiological investigation favorably. The EICISA Project, has received highly appreciation and sincere gratitude from STP. Sao Tome national television broadcast the EICISA Project and invited Dr. Que to record the Sao Tome Health program.
  Our hospital has been committing to engaging in the constitution of the cross-border medical aid relationship which facilitates development in fields such as oral health, building a good reputation all over the world. We hold the belief that the exchange and cooperation between medical resources and talents can help solve the problem of unbalanced medical resources. In this sense, excellent medical resources can break geographic limits and bring a better life to the people in less modern areas.