Sparks Out of Classroom
  West China School of Stomatology (WCSS)has focused on the multi-dimensional development of students, such as sports activities, voluntary works and so on, which ignites students' passion outside the classroom — in the swimming pool, gymnastic ground and the blood center.
WCSS Student Won Second Prize in National Swimming Competition
  On the first of June in 2021, the 20th Chinese College Student Swimming Championship took place in Yangzhou, which attracted college Students from 56 universities.
  As the captain of Sichuan University's swimming team, Zhuang Yanjia, a second-year student at WCSS, came second in Women's Group C 100-meter Freestyle and third in Women's Group C 200-meter Freestyle, and led the team to win the second place of Women's Group C 4 * 200-meter Freestyle Relay and the third of Women's Group C 4 * 100-meter Freestyle Relay.
  The agility, vigor and courage of WCSS students were brought out to the most through the brilliant performance of Yanjia during the swimming competition. For years long, West China School of Stomatology has been put high attention on cultivating the awareness and ability of student in participating in physical activities, with the aim of strengthening the comprehensive development of future dental leaders.

WCSS Student Stood Out in Gymnastics Competition
  The 2021 China University Rhythmic Gymnastics Championship kicked off in grand style in Chengdu Sport University on June 8th, with 284 athletes and 31 teams nationwide participating.
  Qin Yichun, a third-year student from WCSS, was at the forefront in this championship. As the former leader and current member of Gymnastic team of Sichuan University, this was Qin's forth journey to the national gymnastics competition. This time, Qin Yichun, together with her team, presented their performance in an innovative, challenging and unique style and showed a high standard in technical proficiency, which made them come first in three different competitions.
  As a WCSS student, Qin has also devoted herself to public service and voluntary work during her college year, aside from the acrobatic ground and classroom. With a concerted effort, WCSS puts high emphasis on the aesthetic and physical education and has been contributing to fostering outstanding dental students to living their lives to the full.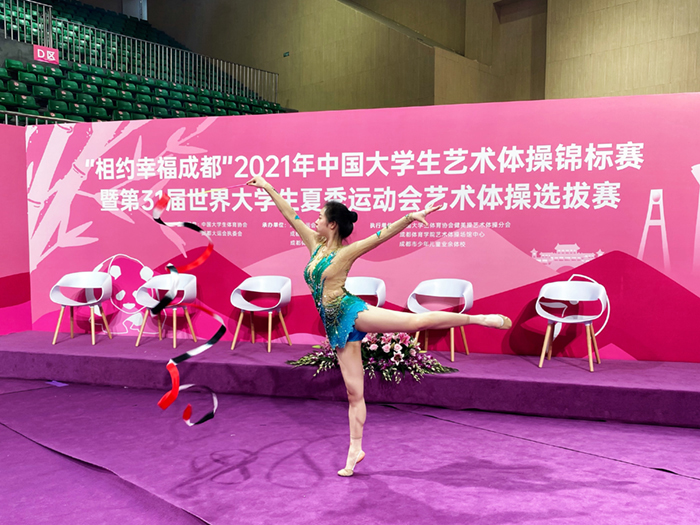 WCSS Student Awarded for Voluntary Blood Donation
  As the day of June 14th has just witnessed the 18th WBDD ( World Blood Donation Day), Li Xuan, a student from WCSS, received the Lifetime Honor Award from Sichuan Blood Center.
  The story between Li and blood donation started from February 23rd, 2013, on her eighteenth birthday. Since then, Li has kept donating blood for eight years, and the volume of her donation could be used for 178 treatments. As a dentist, Li has devoted herself to her career all the time. As a responsible citizen, she also takes blood donation as one of her life-long commitments, with her courage, enthusiasm, and love. Li has received piles of various awards, such as the National Voluntary Blood Donating Golden Award for 2018-2019 and 2016-2017, Voluntary Blood Donating Advocator for Sichuan Province and so on.
  "Our country still has a long way to go on blood donation education, for there remains a lot of misunderstandings. As an individual, all I can do is to set an example to influence people around me." Said Li.